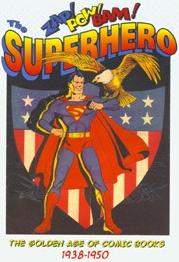 Visitors to the special exhibit "Zap! Pow! Bam! The Superhero: The Golden Age of Comic Books, 1938-1950" can learn all about those legendary characters who fought evil and injustice. They can also learn about their predominantly Jewish creators.
The exhibit, which opens September 16th and runs through January 4th, will delight visitors of all ages. It has a high nostalgia quotient for those who grew up during the 1930s and '40s, some of whom may have been Glenville classmates of Superman's co-creators Joe Shuster and Jerry Siegel. Baby boomers, too, will get a kick out of revisiting the diversions of their youth, whose characters were popularized even further by television in the 1950s. The historical significance of the comics may be lost on the youngest visitors, but they'll be tickled by a ride in an original, kid-sized, mechanized Batmobile, or a chance to emerge in full superhero regalia from a vintage phone booth.
Originally developed by The William Breman Jewish Heritage Museum in Atlanta, the exhibit's guest curator was Jerry Robinson, who worked with Batman creator Bob Kane. Robinson is credited with naming Batman's young protégé Robin and co-creating Batman's nemesis, The Joker. Many items from Robinson's personal collection are on display.
The exhibit describes the genesis of the American comic book as a 20th century phenomenon, with roots in the 19th century pulp paper magazines and dime novels. Initially, the books were comprised of reprints of strips from the Sunday newspapers reduced to half-tabloid size. These were hugely successful and by the mid-1930s publishers ran out of previously printed material and began to employ writers and artists to create new stories. This creative opportunity was particularly attractive to many young, educated, ambitious Jewish men in New York City who were out of work during the Depression.
"Zap! Pow! Bam!" includes over 70 artifacts n vintage artwork, rare early comic books, scripts and original toys and games. Visitors can listen to audio interviews with many of the superheroes' creators, and view 1940s serials in the old-time movie theater. Those who get footsore can peruse an assortment of vintage comics while they rest a bit on a thoughtfully placed park bench.
For more information and ticket prices, call 216-593-0575 or check out the Maltz Museum of Jewish Heritage website.