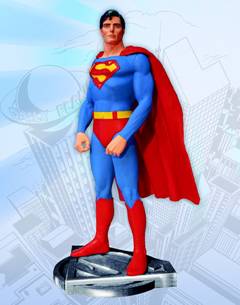 One new item that fans have been requesting from DC Direct for years is the official first ever "CHRISTOPHER REEVE AS SUPERMAN STATUE" sculpted by Karen Palinko.
Official Description

It's the quintessential Man of Steel!

One of the most fondly remembered depictions of Superman is now available as a commemorative statue exclusively from DC Direct. Christopher Reeve strikes an iconic pose from the classic 1978 feature film Superman – the movie that made the world believe "a man could fly" and turned the actor into a star.

Standing atop an S-shield base, the Christopher Reeve as Superman Statue is a limited-edition, hand-painted, cold-cast porcelain statue.
This amazing statue will be available in May of 2009 and will retail for $195. Also, please note that a portion of the proceeds from the sale of this item will be donated to the Christopher and Dana Reeve Foundation.
Click here to check out the DC Comics December 2008 solicitations for all the Superman-related comics and products to be released soon.