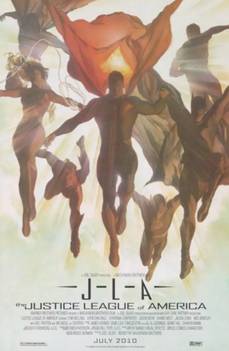 E! Online have posted an article discussing the the status of the Justice League film and what the future holds for the project. Here's an excerpt:
Superman vs. Batman didn't fly. A hyped Aquaman TV show went belly-up without ever airing and the movie is an Entourage joke. A Wonder Woman movie is struggling to get off the drawing board.

The heroes may be down, but they're definitely not out.

In news guaranteed to give fanboys conniptions, Warner Bros. is developing an ambitious feature film based on DC Comics' Justice League of America that will gather together some of the biggest superheroes, according to Daily Variety.

"The Justice League of America has been a perennial favorite for generations of fans, and we believe their appeal to film audiences will be as strong and diverse as the characters themselves," the studio's president of production, Jeff Robinov, told the trade.
Armie Hammer, the unknown picked to play Batman in the film, went on to tell E! Online that the Justice League actors endured months of vomit inducing physical training, and that he actually got to try on the Batsuit.
Considering that back in August, Robinov said that the studio has backed away from the Justice League film and has decided to go a different route and the fact that IESB reported just previous to Robinov's statements that George Miller is off the project, it is quite stretch to believe that the film is currently moving forward.
We will keep you updated as any further news becomes available.