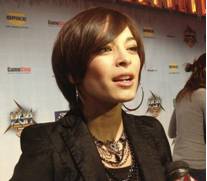 FearNet.com recently caught up with Kristen Kreuk at Spike's Video Game Awards and interviewed her about her new role in "Street Fighter: The Legend of Chun-Li" and why she will not disappoint her Smallville fans.
FearNet: Will you be popping up on Smallville anymore this season?
Kristen: I will. I have four more episodes that will air starting January 15th.

FearNet: Anything you can share with us?
Kristen: Lana is coming back after being away for a long time. The audience gets to find out what happened to her, what occurred during that time period. She's very different when she comes back. Then she gets a beautiful send-off. She's been a victim for so long, so she gets a beautiful send-off as a hero that her fans will really, really like.

FearNet: Is this the last season of Smallville?
Kristen: I don't know. It depends on whatever goes on between Tom Welling and the powers that be. If there is another season, I won't be there – that is all I know!

FearNet: Tell us about "Street Fighter: The Legend of Chun-Li".
Kristen: It's the origin story of Chun-Li, what happens in her childhood and through her young adult years that causes her to become the fighter that she is. It's kind of a spiritual journey in a lot of ways. A traditional kung-fu story where I'm very angry and going to go get revenge, but I find a master who teaches me to overcome my emotions so I can see the greater good, then become a stronger fighter because internally you have a greater strength.

FearNet: Do you have a martial arts background?
Kristen: A bit. I have a purple belt in karate, which I took between 5th grade and 10th grade. I also have a competitive gymnastics background. So all of that helps out. I did do five weeks of training for the film. I would have loved to have done more. I had such a good time.

FearNet: Did you do a lot of your own stunts?
Kristen: I did a bunch of stunts. I also had three stunt doubles – one of which was a man. Between all four of us, we covered it.